Love and Legacy at Olivet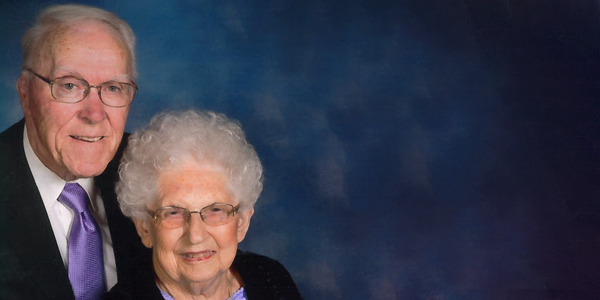 Olivet has always held a special place in the hearts of Eugene and Edith Bushey.

It's where they first met as students in 1944, and the destination for countless road trips — dropping off, picking up, or visiting their three children: Richard, Rodney and Margo.

"It just kind of grew on me," chuckles Eugene. "Olivet is like a family. It had quite a bit of impact on our lives."

The Busheys have made modest contributions to ONU over the years, including as monthly donors to Friends of Olivet. So it was a natural next step for them to explore a creative way to make an even greater impact.

Eugene says Edith always had a passion for missions, so she designated her life insurance to be distributed in four areas close to her heart: her local church, church district, global missions and Olivet. Two years after her passing, she's making a tremendous difference in the lives of Olivet students in the form of music scholarships.

Likewise, Eugene hopes to add to his legacy by designating Olivet as a beneficiary to some of his decades-old investments and life insurance.

"It's amazing," he says, commenting how he never imagined he'd be able to give in such a way. "It built up more than I realized, so we discovered we could benefit the organizations we care about."

Eugene expresses his joy in giving back in such a tangible way — in gratitude for the role Olivet has played in his family's life.

"Olivet has been a real blessing," he says. "When Dr. Bowling speaks about Olivet's mission and purpose, he hits the mark on how we feel, too. Students have gone out and served in missions and in so many other areas of work. They leave quite an impact on our country and the world."